This week, we continue our introduction to eSports series with a look at two of the most important jobs in eSports: caster and host. Casters explain the action and the strategies in play to the audience, while hosts provide an essential anchor point for larger tournament broadcasts. In this article, we'll show you what each role requires and how you can become a caster or host yourself.
Casting
We'll tackle casting first. Casting is the term used for video game commentary, an abbreviation of the older term 'shoutcasting' which has its origins in internet radio. As with traditional sports commentary, the purpose of the caster is to describe and explain what is happening in the game… and how that action fits within a greater strategy sought by each side.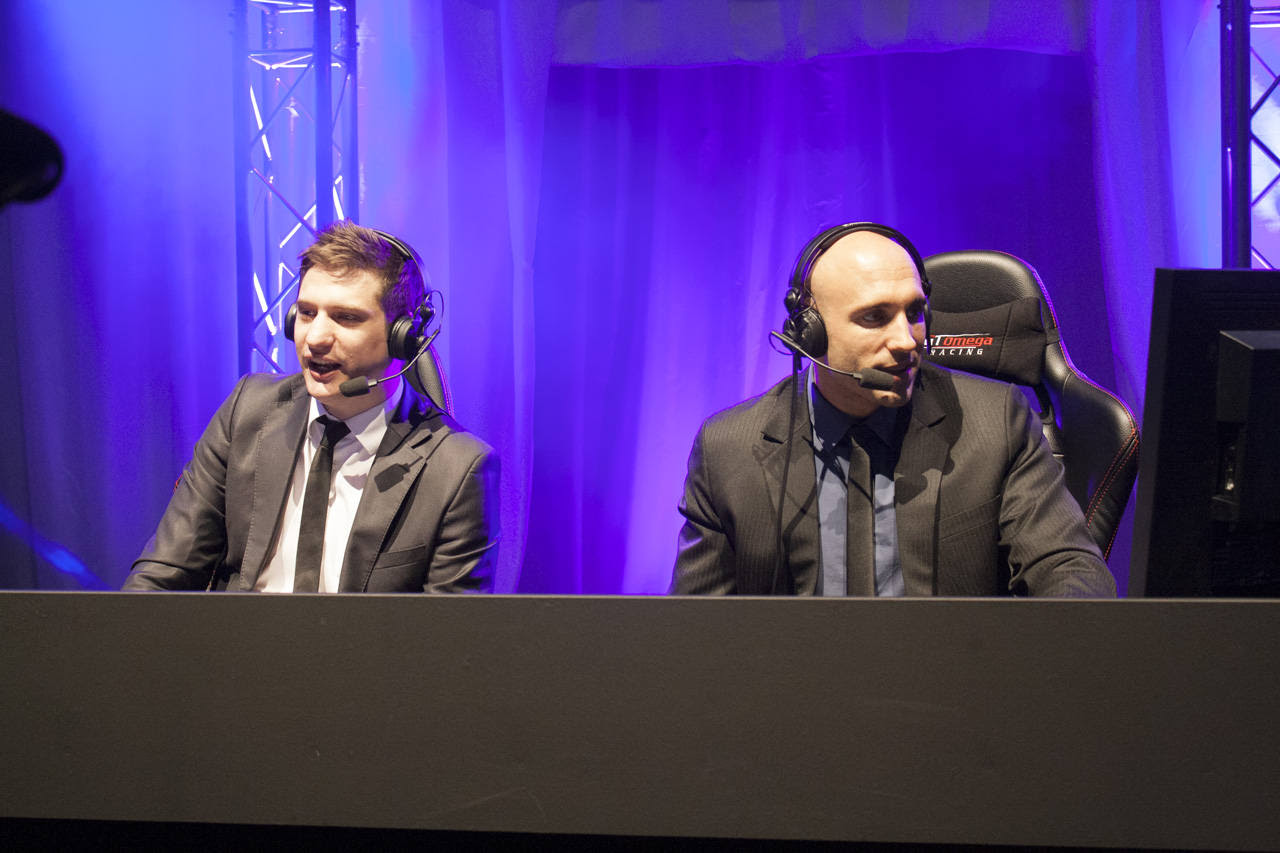 ToD and Khaldor casting at the Gfinity G3 tournament in London
Typically this role is filled by two casters working together on a broadcast, but it's also possible to cast alone and act out both roles. Play-by-play casters will focus on what is happening on-screen, explaining the basics and injecting some excitement into the proceedings. Kaelaris and Nathanias are two examples of well-known play-by-play casters from the StarCraft II scene. Analytical casters will typically speak less, offering insights into the greater strategies in play and what could come next. ToD and Apollo are two casters that fit well within this mould.
Each side of this casting coin requires a different skill set. Game knowledge is the primary attribute of the analytical caster; they must be able to identify the current strategy being pursued by each side, and make reasonable projections for how the game will develop. The analytical caster also knows the players and teams participating in the match, allowing them to draw upon past results and other information to make more accurate predictions and offer more information. Ultimately, the analytical caster uses his knowledge to provide unique insights that the average viewer would not come to on their own. Some, like ToD, continue to compete as professional players. This lets them speak with ultimate authority about both the strategies in-game and the mindset of the competitors.
A quick tournament recap video, (briefly) showing casters Kaelaris and Apollo in action and the reaction they elicit from the watching crowd
Play-by-play casters will speak more often to explain what is going on, so their most important attribute is speaking clearly about the on-screen action. Speaking quickly without stumbling, maintaining a good delivery cadence and allowing the analytical caster to speak are all important elements of this mix. A good play-by-play caster will also add gravitas to the game by showing their own passion and interest, ramping up the audience's interest at critical moments. Nathanias is well known for his rapid yet coherent delivery during big fights, and his co-casters will frequently cease talking entirely in order to allow him to describe the action without interruption.
Nathanias delivers some analysis at IEM Toronto
The best casters are able to offer both game knowledge and a clear delivery, and will adapt their roles to suit their casting partner. Being able to adapt successfully is a big part of the chemistry between two casters, and allows a pair to do more than just take turns doing their own solo cast. The most well-known pairs – Nathanias and Rotterdam, Tasteless and Artosis – will work together for months or years, building a strong rapport that viewers enjoy. Whether it's casual chat to fill time in the opening stages of a game or the climactic final moments, a great casting partnership keeps viewers engaged and entertained.
Hosts
Hosts are also well known for their close connections with casters, but their role is a more general one. They serve as anchors for eSports broadcasts and tournaments, mediating between the back-room production staff and the players and casters on screen. Hosts present the broadcast to viewers, connecting games, interviews and prepared videos into a seamless presentation.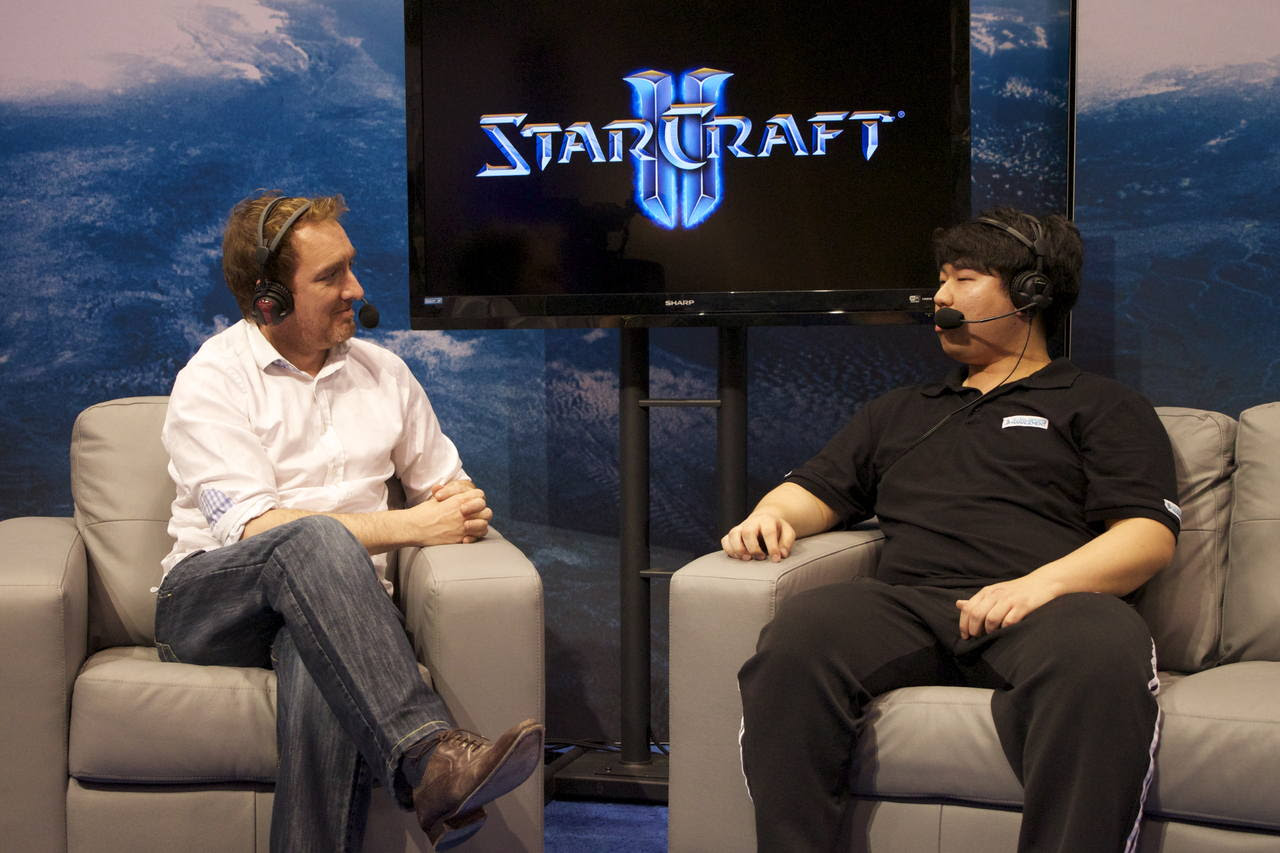 Host Redeye speaks with pro gamer MC at IEM Toronto
Redeye is one of the most well known hosts in eSports, covering many games including StarCraft II, Counter-Strike: Global Offensive and League of Legends. Like many hosts, he reached his position after years as being both a pro player and caster. This gives him a good shared history with the players and personalities that he works with, making it easier for him to give effective direction.
Research is another important attribute for a successful host. Knowing the histories of each player involved ensures that panel discussions can be directed appropriately, interviewers can ask the right questions and a narrative for the viewer can be constructed. Preparation isn't everything though, as a good host should be able to react well to production mistakes or uncooperative players. Mistakes here and there are inevitable, so being able to respond with wit and grace is essential.
Redeye excels in each of these areas, and he has another useful attribute: he is British, and therefore a native English speaker. This makes it easier for him to be understood by an international audience; indeed, many of the most well-known casters and hosts across the world hail from the UK, USA, Canada or Australia. Of course, don't let this put you off if you don't speak English as a first language – there are plenty of successful casters and hosts from other backgrounds, too.
Getting started
So what's the best way to start casting? It starts with knowing the game, as Nathanias suggests.
"The most important skill for any caster is playing the game and getting good at it. It's always easy to spot casters that don't know the game well, and it's almost impossible for them to survive."
The next step is to actually start casting. You might begin by just downloading a replay file from a professional game, and start commentating on the action as it unfolds. Once you're comfortable with the basic process, then it's time to get some feedback. You'll need a microphone, a PC capable of streaming or recording video and some basic recording software. Record the game and your commentary, then post the footage on YouTube. Share it with your friends or the wider community, and take their feedback on board to improve your casting.
A recent StarCraft II tournament broadcast – we have Redeye as host at the start and a big battle at 30 minutes in, featuring casting by Kaelaris and Apollo.
Once you're satisfied that you've got the basics down, it's time to get an audience. You might continue to produce casts for YouTube, but there's nothing quite like a live cast. Volunteer to cast a small online tournament; keep your eye out for announcements and ask the organisers if you can do a cast. Most small tournament organisers are happy for the additional exposure, so this step shouldn't be too hard.
As you improve, you can continue to apply to larger online cups like ESL's Go4 series, the Gfinity cups or even giffgaff's own eSports events. If you speak a non-English language, you might consider casting in it as you'll provide something different to just another English stream. If you keep up the good work and steadily improve, then you'll be able to cast offline events – starting with local LAN parties, and eventually graduating to proper offline tournaments.
Redeye doing an interview with a player (Hyun) through an interpreter (Susie) 
Becoming a host is harder, as there are fewer entry-level roles available. You might try organising an eSports podcast / videocast, as these demand many of the same skills and are less difficult to broadcast than a full offline tournament.
You can make it happen
As with the rest of the eSports industry, if you're willing to develop the talent and spend the time, then you can eventually become at least a small-time caster or host. Produce regular content, promote yourself, and always strive for improvement. Volunteer for local LANs and smaller online events, and if you do well you'll get more opportunities to show your stuff. You might even consider running your own tournament. That's the topic of choice for next week, so stay tuned for that!
Photos in this article were taken by @Navneetr and myself for @aceresport. Thank you to @Nathanias for contributing his thoughts on casting as well.
Do you have any questions about casting and hosting? Let me know – you can reach me on Twitter @AcerWill.